| | |
| --- | --- |
| ExampleHoroskope | Love Horoscope |
| Period | Daily |
| Starting date | 2017.04.22. |
| Ending date | 2017.04.23. |
---
---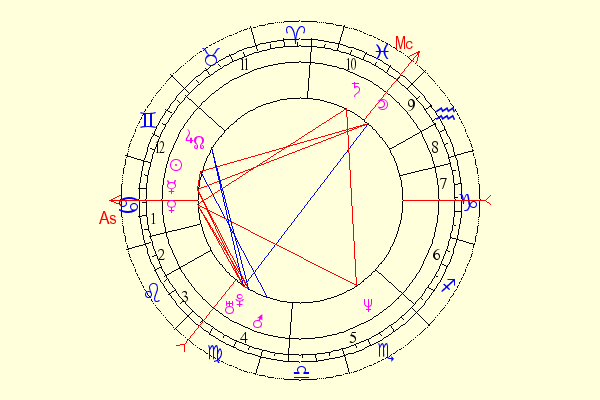 General situation of the day

Moon on that day.

Waning Moon (from Full Moon to New Moon). This is the time when we can analyze the relationship, work out the details of common activities, and fix the mistakes made before. This is the time of abandoning bad relationships or getting rid of what you do not need in your relationship.

Moon in Aquarius 00:00-03:42

Moon in Aquarius. This position of the moon removes restrictions and inclines you to bold experiments, unusual steps, or making new acquaintances, especially by using internet resources.

Moon in Pisces 03:42-24:00

Moon in Pisces. This position of the moon sets romantic mood, inclining you to relaxed and comfortable pastime with a close friend. It allows you to feel the mood of the partner in the heart to heart talk. But it can also give illusions.

Moon Void 02:22-03:42

It is better not to start anything important now. Do not schedule important dates, especially first dates. All important personal agreements are also best done at another time.

Retrograde **====

Mercury retrograde

Retrograde Mercury. At this time, the renewal of an old relationship, returning to what has already occurred is possible. You can correct the mistakes which have been made, adjust your stance; you can also get rid of the unnecessary that prevents your love plans. Be careful and take decisions when informed.

Individual impacts of the day (interaction of planets with the personal horoscope)

Important planetary influences which act for a long time, and that day falls in the period when they exert effect.

Stressful interaction Neptune Jupiter of your horoscope

This influence is not too important for relationships. But indirectly, it can exert effect on your personal life, if you give way to the uncertainty of plans, participation in questionable projects, dissatisfaction, and other unrealistic searchlights. You can expect disappointment as a result of unjustified optimism and dashed hopes.

Stressful interaction Saturn with the Sun of your horoscope

This is an important and tense influence, which may require from you self-surrender in love or lead to the decline of energy, in particular the sexual one. You will have to invest a lot of work, patience, and effort in your relationship. This influence may also contribute to the cooling of your relationship or to the setting of more rigid limits for you. Problems of your loved ones may be passed to you, to the point that you will find these relationships a burden. In such case, you may encounter disrespect and ingratitude.

Stressful interaction Jupiter Venus of your horoscope

This influence increases the gap between your amorous desires and opportunities, promising disappointing situations and confusing priorities. Somebody might try to use you for his or her own gain under the guise of tender feelings. This influence does not bring luck, in none of areas. Neither will you be successful in trying to improve something in your private life. Be more modest in your requirements, and mind your own contribution into the relationship.

Major planetary influences of the day

Stressful interaction Venus with the Sun of your horoscope

This influence is stressful for relationships. It distracts from the general goals, moving you towards selfish desires. You may have to choose between feelings and principles, and some bad feeling will remain in any case. This time is not the best time for dating or clarifying the relationship, because it is now very difficult to reconcile different points of view; the differences may be of a fundamental nature. Try to respect the feelings of the partner.

Favorable interaction of the Sun Moon of your horoscope

This positive influence contributes to success in strengthening the family, to spending pleasant time together. Communication promises to be warm and interesting.

At certain times of the day, it is useful to consider the influence of the Moon on your horoscope.

Favorable interaction Moon with the Sun of your horoscope 00:00-02:34

This planetary influence gives opportunities for privacy, enhances the ability to "show off" and to show your best side, which certainly increases the chances of reciprocity. The manifestation of leadership skills and self-confidence can also contribute to success in love. It is also the time for giving and receiving gifts - bright, beautiful, and expensive. It is time for common celebrations! Moreover, in this period it is good to reveal your feelings and confess. In sex, you should be generous, add the elements of game, not lose self-esteem and do everything possible to earn the "applause". This is a good time to show your partner all the richness of your nature.

Interaction Moon Moon of your horoscope 06:05-09:43

This planetary influence intensifies emotions, so taking care and attention will be received with gratitude. It is good to communicate with your loved ones in a comfortable and cozy environment, to look for decisions on domestic issues, to do something which shows your respect for the family values of the other person. At this time, it is easier to express your feelings and you can count on a sympathetic ear. It is very much true for this time that the way to the heart passes through the stomach. As for sex, the energy of this influence inclines to concessions, softness and responsiveness to other person's wishes.

Favorable interaction Moon Mercury of your horoscope 16:35-20:10

Mutual sympathy through this planetary influence can be based on mutual interests. It is good to communicate with loved ones, "conquer by intelligence" those who you plan to conquer, share information, solve organizational issues, or just flirt. This influence may contribute to new acquaintances, including those met while travelling. This time is good for short-term romances without far- reaching consequences. In sex, this time is that of the satisfaction of research interest and the verification of the theoretical material in practice.

Stressful interaction Moon Uranus of your horoscope 22:02-24:00

This revolutionary planetary influence may in a brief moment turn a lot in the relationship upside down. The reason may be a passionate desire for independence and freedom from restrictions. Perhaps, at this time it is good to get prepared for unexpected and non-standard behavior - both in your and your partner's case. This influence may increase the excitability and conflicts, provide an element of instability and unrest in the relationship. Some things will definitely be set up solely to the individual; it is even possible that they will be contrary to the common interest.
Astrological forecast is based on the basis of a joint analysis of your birth chart (horoscope), and the exact position of the planets in the forecast period. Based on your birth data we computed and built your individual horoscope, and then analyzed the most significant astrological influence (the motion of planets), consistently, day after day during the forecast period and their impact on your horoscope. As the result we provide you with the individual for you forecast of the major astrological influences. They create a wide range of opportunities and wide range of challenges, thus giving you the choice for certain actions. Provide, but do not oblige. The choice is always yours! Knowing the nature of the effects and time when they are most strongly manifested, you can estimate the degree of difficulty and time to take advantage of these opportunities. You even get the creator of your destiny. The forecast provides guidance to the nature of the effects, the intervals of time when they are most strongly exist: recommendations regarding the optimal behavior during these time intervals in order to achieve success and stability in business. This allows at any time to tailor one's life to cosmic rhythms, unbreakable connection with which is predetermined by nature.
Planetary influences may occur with varying degrees of strength. They can either reinforce each other or contradict each other. Not all the influences can be felt, understood, lead to significant events. In the case of conflicting trends it makes sense to rely on favorable ones and be attentive to matters in those areas for which there is intense impact. 'Tense', 'conflict' and 'complex' effects suggest that the situation in your life needs some changes and it is likely that they will occur. This is the most intense time, which requires understanding of the situation, switching on and studying, usage of energy and strength. Then the changes may be important and positive, this can become the move to another level. 'Tense' aspects can also mean that you will be emotional, irritable, agitated, aggressive more than the usual, so during this time be rigorous to yourself, control yourself and be critical. The presence of intense effects does not mean that you should refuse things that are important to you, you simply need to assess the influence of the circumstances at the moment and make the most rational decision. To neutralize difficult situations try to use time when there are favorable influences along with the tense influences. Favorable influences suggest that the time is good for a particular action and result in this field will be easier to achieve than at any other time. They also point out that this is the best time to reveal your talents, abilities, your potential.