| | |
| --- | --- |
| ExampleHoroskope | Holiday Horoscope |
| Period | Daily |
| Starting date | 2017.02.22. |
| Ending date | 2017.02.23. |
---
---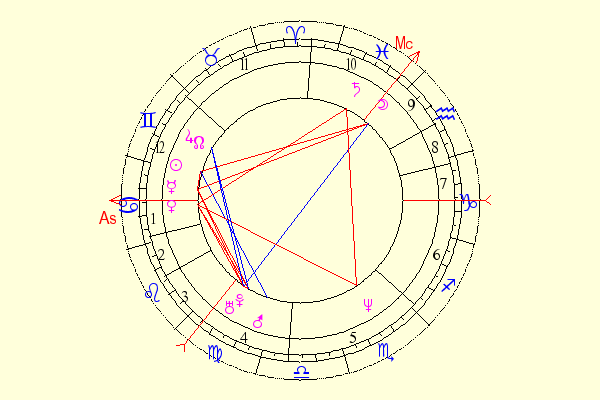 General situation of the day

Moon on that day.

Waning Moon (from Full Moon to New Moon). This is the time when you may take advantage of your experience and avoid mistakes when planning your leisure time. Now it is good time to do what you like but have not yet had time to do, to reconsider what you have liked, enjoy the familiar and abandon what you are already tired of.

Moon in Capricorn

Moon in Capricorn. This position of the moon calls to combine business with pleasure, and puts the responsibilities in the first place, while leisure to the second. At this time, you may be interested in traditional institutions and companies, resting with which will make you feel more at work than having entertainment.

Individual impacts of the day (interaction of planets with the personal horoscope)

Important planetary influences which act for a long time, and that day falls in the period when they exert effect.

Stressful interaction Saturn Mars of your horoscope

This influence may be counteracted sporting events, outdoor activities. You may face restrictions and conflict situations. You may have to sacrifice their plans and desires. Influence is not conducive to dating and developing new spaces for entertainment and recreation, as well as a love dating. Be careful with the junk food and avoid physical overload.

Major planetary influences of the day

Interaction of the Sun Moon of your horoscope

This influence contributes to staying with relatives and participating in family entertainment events. It is good to have guests, arrange home celebrations, and accept invitations from relatives. You will be inspiring all entertainment, and your relatives will be trying to catch up with you.

At certain times of the day, it is useful to consider the influence of the Moon on your horoscope.

Stressful interaction Moon Mercury of your horoscope 05:08-09:04

This influence may create organizational problems in the form of forgotten keys, tickets, confusion of the time and place of appointments, interfering with agreements on joint leisure and discouraging travel. Not all new people may meet your expectations. You should be more careful when driving or using public transportation. If you are planning doing shopping, it is important to quickly and accurately navigate in the ocean of trade information, which may be repetitive or, on the contrary, give ambiguous advice. Pay attention to the change and receipts.

Favorable interaction Moon Uranus of your horoscope 11:07-15:02

This influence may attune you to meeting new people, chatting online, meeting friends, having fun parties with jokes and pranks, participate in group activities, daring leisure and intellectual experiments. Consider Russian cuisine and support domestic producers when shopping, whatever your means are. Also, if there are no other adverse influences, it is good to purchase electronics, home appliances, and any new items you wish in any area.

Favorable interaction Moon Pluto of your horoscope 16:23-20:16

This influence attunes you to amorous and other adventures, night clubs, strip bars, auctions, billiards, rock music, and concerts. You may stay close to nature - go hunting, hiking (including extreme), or fishing. Focus on Eastern cuisine. If you plan going shopping, consider sexy lingerie, antiques, accessories for plumbing work, and household chemicals.

Stressful interaction Moon Venus of your horoscope 21:42-24:00

This influence may reduce the susceptibility of beauty, which may interfere with the pleasure in theaters, cinemas, museums, exhibitions, and concerts. Dating may also be far from perfect; obtaining aesthetically decent look may take more time and effort than at other times. Shopping at this time may be done under the motto "Enjoy what you can get"; there may be need to enter compromises to satisfy your desires and capabilities.

Favorable interaction Moon Saturn of your horoscope 22:49-24:00

This influence favors reputable clubs, restaurants, corporate events, rest with colleagues and superiors, dinner parties and combining business with pleasure. The theme of this time is the Chinese cuisine. The themes of shopping are clothes for important, formal events, office furniture and accessories, protective equipment, building materials, calendars, and clocks.

Favorable interaction Moon Neptune of your horoscope 23:43-24:00

This influence favors romantic dates, good music, outdoor recreation, steam baths, saunas, swimming pools, fishing and recreation. Wine tasting and trying seafood are also suitable activities at this time. When shopping, consider household chemicals, medicines, musical instruments, art objects, vitamins, pet food, shoes, paint, bedding, and fishing equipment.
Astrological forecast is based on the basis of a joint analysis of your birth chart (horoscope), and the exact position of the planets in the forecast period. Based on your birth data we computed and built your individual horoscope, and then analyzed the most significant astrological influence (the motion of planets), consistently, day after day during the forecast period and their impact on your horoscope. As the result we provide you with the individual for you forecast of the major astrological influences. They create a wide range of opportunities and wide range of challenges, thus giving you the choice for certain actions. Provide, but do not oblige. The choice is always yours! Knowing the nature of the effects and time when they are most strongly manifested, you can estimate the degree of difficulty and time to take advantage of these opportunities. You even get the creator of your destiny. The forecast provides guidance to the nature of the effects, the intervals of time when they are most strongly exist: recommendations regarding the optimal behavior during these time intervals in order to achieve success and stability in business. This allows at any time to tailor one's life to cosmic rhythms, unbreakable connection with which is predetermined by nature.
Planetary influences may occur with varying degrees of strength. They can either reinforce each other or contradict each other. Not all the influences can be felt, understood, lead to significant events. In the case of conflicting trends it makes sense to rely on favorable ones and be attentive to matters in those areas for which there is intense impact. 'Tense', 'conflict' and 'complex' effects suggest that the situation in your life needs some changes and it is likely that they will occur. This is the most intense time, which requires understanding of the situation, switching on and studying, usage of energy and strength. Then the changes may be important and positive, this can become the move to another level. 'Tense' aspects can also mean that you will be emotional, irritable, agitated, aggressive more than the usual, so during this time be rigorous to yourself, control yourself and be critical. The presence of intense effects does not mean that you should refuse things that are important to you, you simply need to assess the influence of the circumstances at the moment and make the most rational decision. To neutralize difficult situations try to use time when there are favorable influences along with the tense influences. Favorable influences suggest that the time is good for a particular action and result in this field will be easier to achieve than at any other time. They also point out that this is the best time to reveal your talents, abilities, your potential.