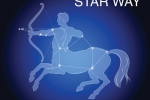 The luckiest sign of December 2020 will be SAGITTARIUS, since from the first day of the month the Sun will be in the sign, and then Venus will enter there. The sun in the first decade of December will add vitality to Sagittarius. They will better understand what they personally want. Sagittarius will be good at things that require initiative or show off talents. They will be lucky in contests, competitions, casting and interviews.
Venus will join the Sun on December 15, and until December 21 they will act together. Venus will add charm to Sagittarius. The energy of the Sun will be diluted with gentleness of manners, diplomacy and benevolence.
From December 21, only Venus will remain in Sagittarius. And for the holidays, it's just great. Sagittarius will stop chasing achievements. They will relax about how they look in the eyes of others, how they are treated, they will lose the desire to be the first everywhere.
SPECIAL DAYS FOR SAGITTARIUS
1). December 11 - The trine of the Sun and Mars will help Sagittarius achieve their goals. The sun will allow them to understand what they want, and Mars will give the strength to achieve what they want. Sagittarius will be especially energetic, temperamental, successful in active affairs, sports and competition.
2). December 15 - not only Venus enters the sign of Sagittarius, but also Mercury in Sagittarius will make a harmonious aspect with Mars. This will add intellectual courage, intelligence and speed of reaction to Sagittarius. This will allow them to successfully negotiate, pass an interview, pass an exam, and speak to the media.
3). December 20 - The Upper Conjunction of Mercury will create favorable conditions for the start of those projects and affairs that were planned during the fall.
4). December 22 - Trine of the Moon to Venus in Sagittarius will make the day for Sagittarius especially light, bright and joyful. Things related to social contacts, personal life, art, beauty will do well.

DAYS WHICH COULD FAIL UP EVERYTHING:
December 9-10 - beware of being deceived, going down the wrong path, making the wrong choice,
December 13 - the square of Mercury and Neptune will make you see and hear what is not, which means your conclusions
this day will be wrong
December 14 - a total solar eclipse suggests that Sagittarius ends with one page of life,
a new one begins,
December 30 - the square of Neptune with Venus will bring illusions and delusions in personal life and in matters
beauty. Don't make decisions in love, don't go to a beauty salon or buy new things.