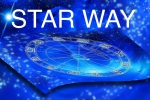 People use the services of astrologers. Here is the story, peeped in the Facebook feed, in connection with a little changed; but the essence remains the same.
As the heroine of the story narrates (we will continue to call her the Heroine): it all started with an ASTROLOGIST.
A couple of years ago, she came to a consultation with an astrologer. An astrologer was sitting at a computer in a little room full of books and magazines. He said that he had done her calculations and looked with interest at our Heroine: "You have an unusually harmonious map! It's as if beauty contests were held in the astrological world, you would be a model! "
But at that time, the heroine was only interested in one question: whether her business partner would bring the promised large project. To which the Astrologer said: "There is hardly anything shining here. Comrade has a weak Saturn and the moon in Capricorn. The latent alcoholic, the revolting henpecked, lives off women. "
The work was a strong place of the Heroine, in contrast to personal relationships and as compensation for their absence. It turns out that her life has recently turned out to be another sand castle. She needed a partner as a support, as she was afraid to go forward alone. And he turned out to be another ballast ...
She said: "I understood, thank you, I am urgently curtailing the joint business."
The astrologer sighed: "And thank God! And who are you by profession? "
"She was the director of the investment fund until she was fired," the heroine answered evasively.
Astrologer: "Do you want to find a new job?"
The heroine: "No ..." I shook my head. "There are all corrupt. While I had a billion euros in the basket, everyone wanted to be friends - licked their ass, gave fur coats, invited them to private parties. I don't want to go there anymore. "
Astrologer: "What do you live on?"
Heroine: "Well, in the beginning there was a shock. I thought that with a modest life of savings, I would have enough for 3 years, and began to look for myself. She began to study homeopathy and psychology. I quit smoking. And she stopped hoping for a relationship with one foreigner. True, here, "she recalled another misfortune:" a month ago I had a very large amount burned in a bank. It would be enough to study my son abroad. I wasn't particularly upset - just the money - but there was only a feeling that the earth swayed under my feet. "
Astrologer: "Lost stability."
Heroine: "Yes, exactly. Money is a support. I am doomed to loneliness. See what I have with psychology? "
"I have to upset you - I don't see psychology in your card," the Astrologer categorically declared, but: "I see strong jurisprudence and literature."
The heroine was in shock. Now it's clear why all her legal clients returned to her. But she did not tell the Astrologer that she was a lawyer. And about the passion for books that had pursued her since childhood, she also did not speak.
"Go to Japan," said the Astrologer, checking his computer, as if he recommended a trip to a neighboring city: "And then you will write a book for women. Well, for example, like this one, 'Eat ...' as it goes on. And don't worry, I see the Sun in your map - you will receive support from a strong man. "
A few years later, having already moved to England and exchanging the phone for a new model, the Heroine again listened to the recording of the meeting with the Astrologer. The astrologer told her something else that she had completely forgotten about. Her goosebumps ran through her body when she again heard his suede voice: 'But all this will only happen if you move abroad. In Russia, nothing really shines for you "....
So, we conclude:
to ASTROLOGES it is better to LISTEN,
regardless of the desires of a person, everything develops as STARS AND PLANETS indicate on it, therefore it is better to know about this in advance.