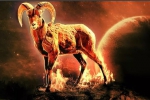 On June 28, Mars enters Aries, and after that we will find many active, quick and heated situations.
The first few weeks, retrograde Mercury will reduce our ability to analyze situations. Our opinions and conclusions on any issues may turn out to be fundamentally wrong. Therefore, in the near future, acting in obedience to an instantaneous impulse will be more correct than trying to carefully calculate everything.
And then Mars will become retrograde.
Therefore, it is also not necessary to start long-playing projects now: there is a risk that in September they will get bogged down in interference and problems. Make sure that you can temporarily stop at any time without harming yourself or that you are guaranteed to finish by fall.
The main aspects of Mars will be the squares to Jupiter, Pluto and Saturn, which warns of the dangers of arrogance and reappraisal of one's forces (Jupiter), interference with force majeure circumstances and the need to act to the limit of possibilities (Pluto) and the final failure of some undertakings (Saturn). But it all starts only in August.
And in July, do sports and physical labor, get involved in the competition, decisively do what you think is necessary, be active and active in those areas where Mars is active. Each zodiac sign has its own sphere of life, where the sign of Aries (and, accordingly, Mars located in it now) is most manifested. Most likely, it is there that the most acute situations will arise that require active action from you.