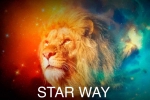 On July 22nd the Sun will move into Leo and will remain there until August 22nd.
In Leo, the Sun is at home, so solar themes will be relevant.
The main theme of the Sun is self-realization.
During this period, you need to live without looking back at others and do what you think is necessary. You need to be confident and self-sufficient. But do not forget to fight the worst manifestations of the Sun - pride and conceit.
You have to stand on your own two feet and not rely on anyone. In dealing with people, you cannot bend and adapt to them. You cannot sacrifice your own interests.
This period will also be good for those who like to be in the spotlight: the Sun loves to create situations in which you can stand out and show off some of your talent.
The sun in Leo is the best time to go headlong into a light, passionate holiday romance without obligations. Moreover, until August 7, Venus is in Gemini, which also does not imply anything serious.
Then Venus will move to Cancer. At this time, it will already be possible to talk about warm and deep feelings, but you still need to demonstrate them generously like a lion.
Most of all, the Sun in Leo is suitable for relaxation.
During this period, it is harmful to live on orders and spend most of the time on what you do not want, but should do at work and at home. If possible, then in the near future it is desirable to go on vacation, because during the New Moon's influence, you will want to close, escape from the routine and relax.
The energy of the New Moon will encourage you to travel to your homeland. Do not be discouraged if you are unable to go on vacation now, the main thing is that you have a lot of free time. You must do what you can express yourself.