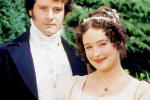 Jane Austen's famous novel Pride and Prejudice was published on January 28, 1813,
on the basis of which films have been shot more than once.
The most famous film adaptation of the novel with Colin Andrew Firth in the title role.
Interestingly, the writer Jane Austen came under the study of the US Astrologers Association, which was conducted in 2010. The topic of the research concerned the general signs of celibacy in the horoscope of women.
In order to get an objective answer to this question, 34 horoscopes of women who never married were examined. The selection criterion was extremely strict: not a single official marriage in a lifetime. At the same time, both classic "old maids" and women with experience of short or relatively long informal relationships were represented. As for children, some women had them, others did not.
So, it was revealed that the freedom-loving Sagittarius often stands out in the horoscopes of inveterate bachelors.
Women with an accented Sagittarius lead an active lifestyle, are easy-going, hate a clear daily routine. Their first enemies are boredom, routine, limitations and obligations.
Sagittarius prefer to live for today and do not like to make plans for the future. Therefore, such women often feel constrained and unhappy in marriage.
This is exactly what the world famous writer Jane Austen (Sun and Mercury in Sagittarius) was who never got married.
When Jane was 20, she had an affair with her neighbor Thomas Lefroy, the future Lord and Chief Justice of Ireland, and in those years a law student. However, the parents did not allow the young to marry: the families were so poor that the parents pinned all their hopes on a more profitable party. Jane and Tom had to part ways.
At thirty, Jane put on a cap, thereby announcing to the world that from now on she was an old maid.