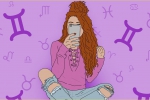 Do you want to go somewhere else? 
When using the word "horoscope", most people imagine a 
column in a newspaper or magazine with 12 paragraphs of short forecasts for all signs of the zodiac, 
or an annual horoscope for the year for each sign of the zodiac. But few know the true origin of this 
word and the fact that the zodiac is only a small part of the horoscope. 
A horoscope is a kind of "document", a roadmap for a person's stay on Earth.