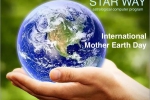 April 22 is not just a big, but a truly global holiday - International Mother Earth Day, held under the auspices of the UN - the day of our common cozy home.
The holiday was founded in 1970 by US Senator Gaylord Nelson of Wisconsin and has been celebrated annually in many countries since then.
In the northern hemisphere, Earth Day is celebrated in spring, and in the southern hemisphere in autumn. The main goal of this worldwide action is to draw the attention of society and every person on the planet to the problems of the Earth, to the problems of its environment.
On this day, it is not enough to pay attention solely to the problems of ecological properties, which are only a consequence of the destructive thinking and behavior of humanity on the planet. On this day, it is proposed to unite efforts to understand the connection between human mental activity and its influence on his native home - the Earth.
From the point of view of astrology, there are also problems in relation to the significance of the Earth when drawing up horoscopes. Many astrologers, both beginners and professional, ignore or forget to put the Earth symbol in the center of the Horoscope. However, our ancient ancestors treated their planet with the deepest respect, and in the horoscopes in the center they depicted the Earth (in the form of a deity or other symbol).
Why did the Earth deserve to be indicated when drawing up a horoscope?
Firstly, without the Earth and the conditions of life, there would be no us and all living things on it.
Secondly, drawing the Earth in the center of the horoscope is, of course, just a symbol, but the entire horoscope is also a symbolic picture of the world (signs of planets, aspects, houses, etc.). The Earth symbol in the center indicates that all horoscopes are built in a geocentric system. This happens not because astrologers are a dark people who do not know that the Sun is in the center, but because we all live on the Earth, and not on the Sun, and it is on the Earth that we experience all our events: from birth to leaving.
Thirdly, the earth is one of the main elements, along with air, water and fire. All elements are inextricably linked and represent our environment. Together they represent a force that a person cannot subdue, no matter how hard he tries! These are hurricanes, earthquakes, floods, magnetic storms, and much more.