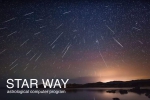 We are sharing information from the Moscow Planetarium about the STARRY SKY OF APRIL 2021.
In the zenith is the constellation Ursa Major, which is gradually leaning towards the west.
In the southern side, high above the horizon, Bootes is located, below and west of it is the constellation Virgo.
In the southeast, Hercules and the Northern Crown rose high, under them - Ophiuchus, to the east of which the constellation Scorpio rises with a bright red star Antares.
In the east, the constellations Lyra and Cygnus have risen significantly, and the constellation Eagle is rising.
The lion is visible in the southwestern sky, and Gemini and the Lesser Dog are near the western horizon.
In the northwest, the Charioteer approaches the horizon, and Perseus and Cassiopeia are above the northern part of the horizon.
And most importantly, in April the stars will start falling from the sky!
We are waiting for the FIRST SPRING STARFALL - LIRIDA!
Lyrids are one of the oldest observed and annually active meteor showers, formed by a comet.
Patient observers of the starry sky will once again have the opportunity to make a wish after seeing a "shooting star".
From April 14 to April 30, the Lyrid meteor shower is activated, the peak of which will be on April 21-22, 2021.
The International Meteor Station predicts up to 18 meteors per hour.
Historical records show that people have been observing the Lyrid for over 2,500 years.
The oldest mention of them comes from China, it says that "the stars fell like rain" on the night of March 16, 687 BC, and on April 20, 1803, a meteor storm swept over the east coast of the United States!
The number of shooting stars reached 700 per hour!
Since then, the Lyrids have evolved into a rather faint celestial representation, but there are occasional surprises, and that's what keeps them interested.
LYRIDS 2021 is a medium-strength meteor shower. It is usually observed for three nights near the peak, i.e. at night on April 21, 22 and 23.
In 2021, conditions for observing meteors are not entirely favorable: the Moon is close to the full moon (which will occur on April 27) and goes below the horizon after 4 a.m., when the Lyrid radiant is high above the southern horizon.
Under these conditions, with clear skies, bright Lyrid meteors can be observed at dawn.
We wish you all clear weather and good observations!